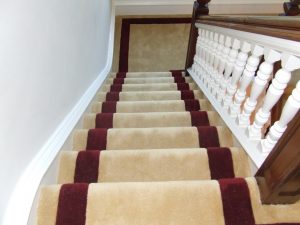 Colourmatched Carpets is a family-run business, based in Earby, Lancashire, selling luxury, custom-made plain and bordered carpets. With over 40 years' experience in the carpet industry, we have sold directly to our customers online since 2001. We pride ourselves on the fact that all our carpets are manufactured by us and are available exclusively online – you won't find us in any carpet shops.
From family homes in neighbouring towns to superyachts across the sea in Barcelona, we manufacture and fit our carpets for a range of clients, including homeowners, interior designers and superyacht proprietors. Location is not an issue when it comes to our custom-made carpet service, which is second to none.
Running an online business and manufacturing our own goods has many advantages but none more so than the price you pay for our premium carpets. Without a middleman involved, it allows us to sell to you at genuine factory prices.
By not having a shop, it doesn't mean that we offer any less of a personal service – we are available to speak directly to via phone or email – and offer a face to face measuring and fitting service. When we measure up, we bring out with us large samples of our carpets which are available in over 2,500 colours, plus the option to dye them to your exact shade. Please be rest assured that at this point, you are not obliged to buy from us.
If you'd like to see for yourself the quality of our carpets prior to us measuring up and offering a quote, simply contact us with your details and we will post out several carpet and underlay samples straightaway.
We don't believe in a hard sell – our carpets can sell themselves and any quote provided is valid for two months and left for you to consider in your own time. We won't bother you with pesky follow up calls or pressure you into making a sale.
To request samples of our bespoke carpet or to arrange a quote, please email us at sales@colourmatchedcustomcarpets.co.uk or phone 01282 844433 or 07833 114 229.