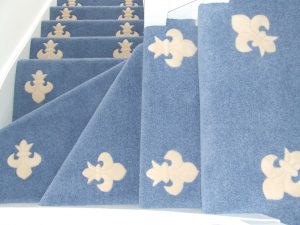 We know that the quality of your carpet fitting is just as important as the carpet itself. For us, every carpet we fit is an advertisement of all our hard work.
A complete fitting service is offered by Colourmatched Carpets' team of fully-skilled fitters who work to the highest of standards. Installation is typically carried out by two fitters, so that furniture can be removed prior to the fit and then replaced after completion, as well as removing any old carpet. Once your new carpet is fitted, our fitters will also fully hoover the room and dispose of any waste materials, so it will be left as we found it, with the addition of a brand new carpet.
To enhance that feeling of luxury, your chosen carpet will be fitted on Cloud 9 Cumulus underlay. You won't have to wait long to experience such luxury either as delivery and fitting typically takes approximately 4-6 weeks, sometimes sooner.
If you would like to know more about our fitting service or to arrange a quote, please email sales@colourmatchedcustomcarpets.co.uk or call us on 01282 844433 or 07833 114 229