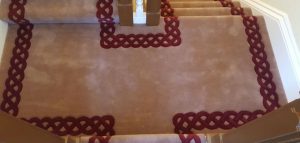 Step onboard a superyacht and you expect a certain standard of luxury – one that Colourmatched Carpets can provide with our bespoke carpets. Our custom-made carpets in their deep and luxurious 100% wool pile, will bring complete luxury to the floors of any superyacht.
With a service that is second to none, we measure, advise, quote, manufacture and fit our carpets to superyachts across Europe and the Mediterranean. We will fly out to do the measuring and then use our van to deliver and fit your carpets. By doing the fitting ourselves, you can be assured of an impeccable final fit and finish.
We can of course accept your own measurements but with airlines flying to, or close to most ports, the cost of us flying out to you can be kept to a minimum with the only extra charge being the carriage charge for bringing the carpet to you. In fact, as we sell at genuine factory prices, it can often work out cheaper than using a local carpet firm.
The interior to your superyacht should be as super as the yacht itself. Choose from one of our plain carpets, available in thousands of shades or we can dye your carpet to match any shade you desire. Alternatively, opt for one of bordered carpets to add real elegance to your boat.
We know that a quality service is just as important as the price, which is why Colourmatched Carpets offer a first-class service to those who own a superyacht or are responsible for the bespoke and luxury interior. We work to your time zone and your requirements and are always in total control of your carpet order.
Distance isn't a boundary when it comes to fulfilling our exceptional service.
To receive samples of our luxury superyacht carpets or to discuss the logistics of a carpet fit outside of the UK, please email sales@colourmatchedcustomcarpets.co.uk You can also call us directly on 01282 844433 or 07833 114 229